With the news on Tuesday morning that Raymond Felton has been arrested and is facing some serious jail time, the Knicks now have to be scrambling for a point guard. And less than 24 hours beforehand, the Knicks unknowingly
worsened matters
by releasing underused point guard Beno Udrih along with forward Metta World Peace.
So with Felton possibly facing some jail time and a healthy suspension, the Knicks are down to two point guards: 36-year-old Pablo Prigioni and former D-League player Toure' Murry.
Prigioni has really done a great job for the Knicks since joining the team last season after years of playing international ball. However, I don't think the Knicks can ask him to play starter minutes. We saw earlier this season the impact high minute games had on him. He played three 30+ minute games in December then went down in the midst of a fourth with a foot injury. He missed over a month as a result.
Murry is a mystery. He has really impressed in his limited action as a defender and player in general. But he is not without his flaws, most significantly his lack of an perimeter shot. He has rarely played since Prigioni's return and has only logged 245 minutes on the season. He's a second year player who's playing his first season in the NBA after an impressive summer league. Is he a guy that can come in and play well in extended minutes, I think so. Is he ready for 20+ minutes a night? I don't know.
Either way, the Knicks have to bring in some point guard help, especially since Shumpert (who played PG in college) is still out with a sprained MCL. So what are the Knicks options?
Jimmer Fredette
The Kings are
working on a buyout
with Fredette after failing to move him at the trade deadline. I
think most fans see him as an interesting prospect. He's improved every year as a pro, he is shooting phenomenally well this season, especially from three point range, and is a New York State native. He had problems cracking into the Kings rotation, but (as the Knicks saw when he came to the Garden) when he comes in he can start a fire with his shooting. And when he's in the zone, he's a damn good player. He's got a lot going for him, but there are also some huge red flags.
Number one: he's not a point guard. Though he has the body of a point guard, I don't think Fredette has the mindset, passing ability, athletic skill or defensive ability to play high minutes at the position. With a defensive rating of 111 this season, and 113 and 114 over the past two seasons, he's a defensive downgrade even compared to Felton.
Overall:
I think he could be a good off-the-bench player for the team. Maybe playing a Steve Novak-type role. But I don't think he's the best fit for the Knicks at this point. But if they did sign him, it's a pretty low-risk addition. If he's interested, and willing to sign for the minimum, he could end up being an asset for the Knicks. At the very least, he could sit in the corner on Horns players/pick and roll plays and stretch out the defense.
Jamaal Tinsley
Another old vet that might be able to come in for the Knicks and help out in light doses. The 35-year-old point guard and Brooklyn native was cut earlier this season by the Jazz and has been waiting around since.
While, I can't see him joining the team and making a huge impact, he should be able to provide some third-string minutes to help the Knicks get by. And his veteran experience and defensive-mindset might be an asset to this floundering team, especially in the locker room. Even though physically he's far from the same guy making plays in Indiana a decade ago.
The down side? His shooting. Tinsley has never been a great shooter. His career FG% is under 40. He's never shot better than 37% from behind the arc. So he's not going to come into New York with all guns blazing like Jimmer Fredette could. He does have a history of having a bad attitude, but has
allegedly reformed
in Utah, becoming a positive "voice" for that team.
Overall:
I could see him offering a Jason Kidd-like role for the team, but he's not going to be able to play high minutes or be anywhere as effective as Kidd was as a shooter for the Knicks or leader. In his prime, he was a strong defender with a great skillset, but he's never been an efficient shooter. He might end up coming in being the equivalent of Mike Bibby with the Knicks in 2011-12.
Delonte West
Currently, West is in the Far East playing in China and contractually won't be available until next month when his season ends (much like when the Knicks signed JR Smith). So right off the bat, he's not an immediate option. He could potentially be a good option as a backup to Prigioni and could provide some help as an off-the-bench distributor and scorer.
The question marks? He hasn't played in the NBA for two years. But not for lack of ability, rather because of issues he had in the locker room with the Mavericks and a host of other off-the-court issues.
Overall:
We know he's talented and can help the team, but I don't think anyone wants him in the same locker room as JR Smith. The Knicks don't need to bring his problems into an already troubled franchise
.
D-League options?
There are a handful of guys in the D-League right now that are pretty attractive for the Knicks, brimming with potential, but unskilled.
Probably the most attractive name would be
Pierre Jackson
. The Baylor standout has dominated in the D-League, scoring averaging 29 points-per-game with six assists. However, he's not an option for the Knicks as the Pelicans still hold the draft rights. So unless the Pelicans renounce his rights, he's not coming to the Knicks any time soon.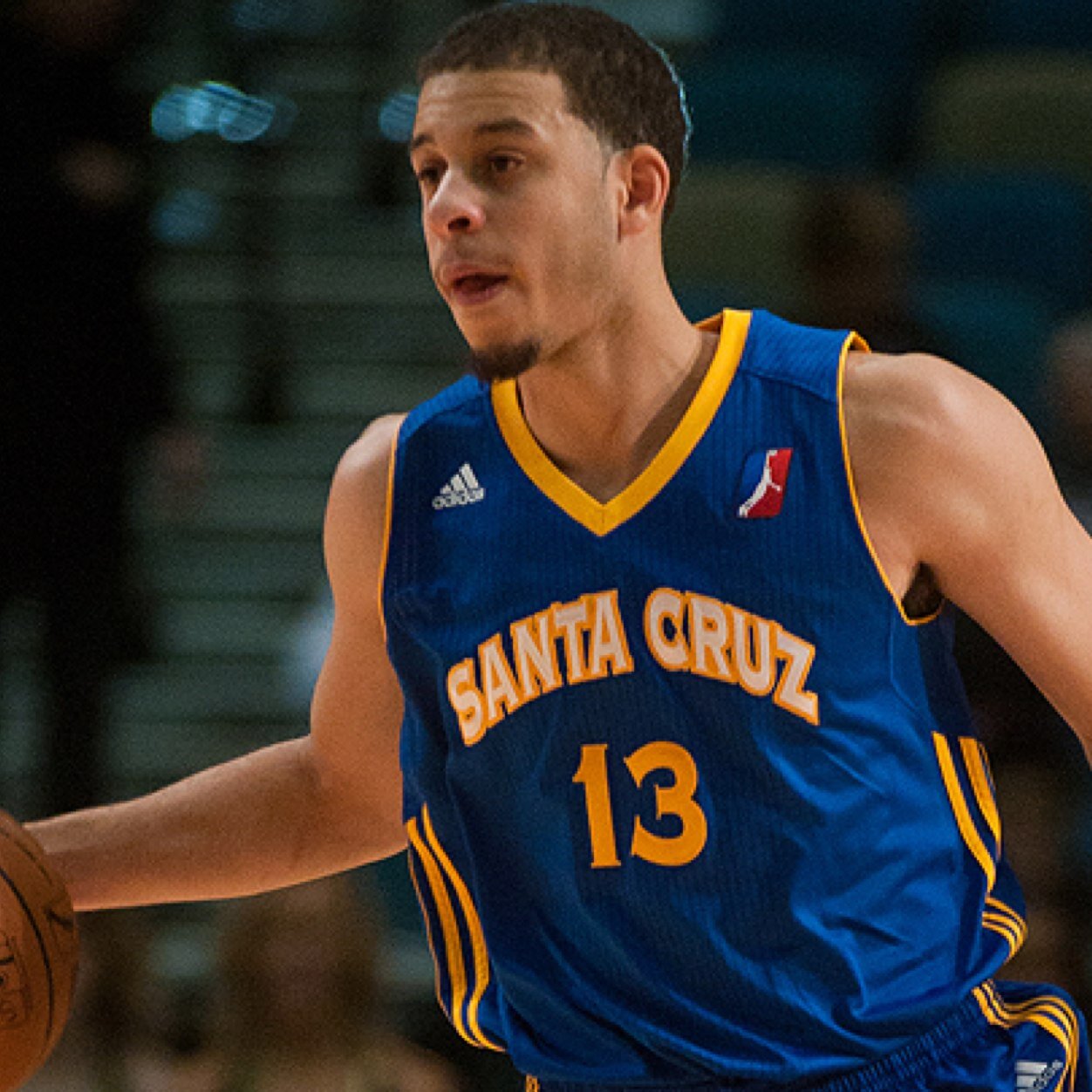 Aside from Jackson, the next most intriguing name would probably be
Seth Curry
, brother the Golden State Warriors star point guard, Steph. Curry wasn't selected in last summer's draft and the only NBA-level action he's seen has been summer league with the Warriors and a short 10-day contract with the Grizzlies where he played in one game. In the D-League, playing for the
Santa Cruz Warriors
, Curry is averaging 19.5 points and just six assists per game. Good stat line, but we all know that probably won't transfer to the NBA.
Also available is former D-Leaguer and Lakers point guard
Darius Morris
who also signed a 10-day contract with the Grizzlies, but was not resigned. Morris has also had stints with the Sixers and Clippers but he has done little to impress teams in his limited action.
Finally, I'll throw out
Dee Bost
, Pierre Jackson's teammate in Idaho, who has put up some pretty nice numbers with 16.5 points-per-game with just under nine assists. Not bad.
Chris Smith
I'm just kidding.
Wrap up
In the end, options aren't great for the Knicks at point guard. My guess is Prigioni, Shump and Murry will be leading the way. There isn't any real options available currently that could come in and be a starter, in my opinion. The only good news, is Knick fans won't have to deal with Raymond Felton's questionable play. But it's unlikely the team will be better off without Felton than they were with him.
UPDATE:
There are
reports
that the Knicks are interested in guard
Shannon Brown
. I didn't consider him because I thought he was more of a SG. But he is certainly a skilled ballhandler and athletic enough to play point. He might not be a good option for the time being. The Knicks previously made a
run at Brown
back in 2010, so they have been looking at him for some time.
This season, Brown was traded from the Suns and Wizards and then waived by Washington. He signed two 10-day contracts recently with the San Antonio Spurs, but did not re-sign after the second contract expired. In 10 games with the Spurs, he was less than impressive in limited action, shooting 28% from the field and failing to make a single three. He offensive rating for that brief period was an abysmal 68. But he only played in 10 games and averaged 10 minutes per game. Not a huge sample-size, especially considering he was probably more than a little rusty.