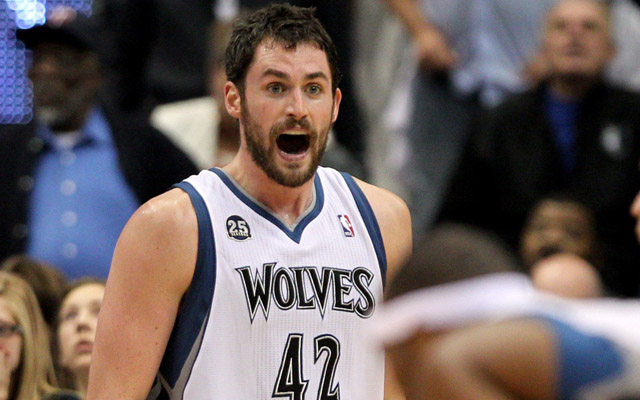 ESPN is
reporting
that -- along with Los Angeles and Chicago -- forward Kevin Love will also consider the Knicks as a possible landing spot when his contract expires during the 2015 offseason.
Love will be the cream of that year's free agency crop and at the same time, the Knicks' cap will be relatively clear with Amar'e Stoudemire's, Andrea Bargnani's and Tyson Chandler's contracts all expiring at the same time.
Love has been on the radar of Knicks fans and is a MVP-level player. This past season, he has averaged 26 ppg with 12 rpg. The 6'10'' forward has also shown versatility as a scorer who can score in the paint/on the post and knock down outside shots consistently. However, his defense is questionable and he has accrued a career defensive rating of 106.
Whether or not Kevin Love will want to venture into the fray that is the New York Knicks is the main concern for NYK fans. Especially if that's a Carmelo-less Knicks roster.
If Melo does leave, the Knicks will have a rare 1st round pick in that summer's draft, which could end up being a pretty high pick in that scenario. Even if Melo does stay, there's no guarantee the Knicks won't have a lottery pick next season, as this year will demonstrate. The Knicks at this point, aren't in position to make any significant roster moves, so at best, the Knicks will have about the same squad but with a new coach. Or possible, the same squad with no Melo and a new coach.
Read the ESPN story here: http://espn.go.com/blog/los-angeles/lakers/post/_/id/39404/llakers-can-still-dream-about-kevin-love?ex_cid=espnapi_public